What can I win?
.
The awards winners get to win some incredible awards and benefits including a special trophy amongst other valued prizes:
The 2017 awards and prizes will soon be announced.
The details of the 2016 awards and winning prizes are listed below:
Trophy
"Peace Song" Trophy (of priceless personal value)
Recording session
Recording session with producer and Grammy® winner Ricky Kej (valued at $15,000 USD)
Be part of global albums
Special invitation to be part of Ricky Kej new album (valued at $1,000). Your music will also be featured on one of the Global Peace Song Awards winner compilation album. (valued at $1,000)
Perform live
Special invitation to perform live at a select Project Peace On Earth concert (valued at $5,000)
Goodies
There are prizes from a Music School, an Instrument Manufactuer and an Instrument Retailer (details will be announced shortly)
Coaching sessions
2 hour webinar coaching session and Q & A on how to succeed in the business of music industry hosted by Ricky Kej (valued at $1,000)
2 hour webinar on Legal landscape of Music Contracts "Do's and Don't" with an esteemed music Attorney Burgundy Morgan. (valued at $900).
Career/Album Public Relations/Publicist Consultation (valued at $1,000)
Design prizes
2 Custom Album Cover designs from Rezonant (valued at $1,000)
1 Website design from Rezonant (valued at $2,000)
11 Album Covers. Each category winner can choose 1 art image from Syamarani Dasi or Greg Spalenka. (valued at $1,000 each)
**Syamarani Dasi and Greg Spalenka have confirmed their art work as a prizes for each of the category winners for our 2017 contest.
Syamarani Dasi : Since 1966 she has painted over 300 paintings for the temples and books of Srila Prabhupada Bhaktivedanta Svami Maharaja and Srila Bhaktivedanta Narayana Maharaja (world-famed preachers of Krsna Consciousness and Vedic culture).
Greg Spalenka : Greg Spalenka is an award winning artist for America's most prominent publishers of books, magazines, and newspapers (Harper Collins, Penguin Random House, Scholastic, Rolling Stone, Time, Sports Illustrated, N.Y. Times, L.A. Times, etc.). As a concept designer he has worked on feature CG animated and live action films such as The Ant Bully, The Golden Compass, The Voyage of the Dawn Treader.
Publicity & celebrity opportunities
PR, Publicity and Press Releases (Valued at $1,000). Exclusive Dinner with Ricky Kej, Steve Robertson and few famed musicians ($1,000 value…Travel and hotel accommodations Not included)
PPOE musical ambassadors perform on your next song
Last but not the least, select PPOE Musical Ambassadors, as listed below,  will perform on the next song of your choosing. (each valued at $2,000 per session):
Peter Kater
Peter Kater is a 9 time Grammy nominee/multi-platinum selling Pianist/Composer Peter Kater has been leading innovator of contemporary instrumental music for over 3 decades. His music has been heard all over the world from Healing Centers to the Olympics and Carnegie Hall. He's performed for presidents and dignitaries; scored the music for over 100 TV & Film productions including 11 On & Off-Broadway dramatic plays and is a proud recipient of the Environment Leadership Award from the United Nations.
Alise Ketnere (Fox Lima)
Her new-age sound tied in with her silvery vocals brings us a one-of-a-kind listen. Fox Lima alias Alise Ketnere has won highly recognized songwriting contests and has been involved with international projects that benefit mankind. Fox Lima's most noted success was when she won the competition for lead vocals for the electronic group Enigma. Lima's contribution as a vocalist and lyricist helped produce Enigma's new single "MMX The Social Song." She won the Grand Prize in the John Lennon Song Contest and recently participated in the "2 Unite All" benefit album which included Grammy winners and famed musicians including Peter Gabriel, Opera singer Sasha Cooke and many more.
MAETAR
Itai Disraeli (bass) and Hagai Or (horns) of the group MAETAR.  Their music itself is a declaration of peace, calling on Hebrew and Arabic melodies, filtering it through a rigorous jazz perspective, and the exuberance of funk, soul, and rock.   Their concerts for human rights and peace have brought Arab and Israeli, Muslim, Christian, and Buddhist musicians and communities together alike. Itai is a profound bass player and Hagai's horn playing can rival anyone's.
Hani Naser
A virtuoso percussionist and Oud player. Considered a master in his field.  Hani has performed and recorded with many of the most influential artists of this era including:  Bob Dylan, Carlos Santana, Nickey Hopkins (Rolling Stones), Jackson Brown, Bonnie Raitt, Ry Cooder, Jim Keltner (John Lennon's drummer), Steve Miller, Don Henley (Eagles), Hamza El Din, Kazu Matsui, David Broza, Lou Reed, David Lindley and many other great musicians.
Finbar O'Hanlon
Finbar O'Hanlon is a globally accomplished musician, clinician and music educator.  As the man who's being called "the Rockstar of Technology" by the media, Finbar orchestrated his remarkably varied experiences in advanced technology and entertainment to provide the game-changing digital content delivery enabling technology called Linius.
Elijah
Elijah (aka "Elijah Ray") is the founder and co-creator of the Band of Light.  He has shared his inspiring and transformational music from up and down the West Coast to Hawaii, New York, Amsterdam, and Australia, New Zealand and Peru. Currently based on the Island of Kauai, +Elijah- hosts ongoing, community empowering concert experiences called the "Band of Light+Experience".
www.elijahandthebandoflight.bandcamp.com.
SONG MASTERING by Stefan Hegar
Stefan will master 6 songs for 6 select winners of our 2016 contest and for our 2017 contest he will provide song mastering for each of our song category winners.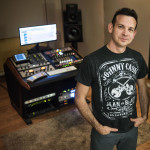 GPSA Advisory Board Stefan Heger
Stefan has worked as an Audio Mastering Engineer for domestic and international Grammy nominated artists for over 20 years.  His company, Fisheye Music Studios, is based in Germany.
There is more
Additional Prizes To Be Announced as the contest progresses